Repair Windows Backup File With An Unique Solution!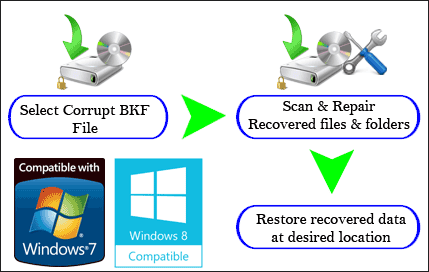 Backup files often get corrupted due to numerous reasons and this corruption ultimately leads to the inaccessibility of data files which have been backed up. As users create backup they get worry-free and often delete the original source files depending on the backup created. That is why there is an urgent need to repair Windows backup file if it gets corrupted, which can be done easily using our backup repairing tool.

Demo version of BKF Repair Tool is available free of charge and can be downloaded from the link provided. Once you are confident about the working process of the tool, you can buy the full version.

Talking about backup, most of the people think that backup is only an identical copy of the data files which is saved in some other location. But the truth is backup file is lot more than that. It is a file which comprises details of many other data files of distinct formats. Windows NT version provides you backup utility, called NTBackup. This creates backups on your local drive. This file has a file extension of .bkf.
This BKF file however has risk of corruption and if you too are unable to access your file it means that your BKF file is heavily corrupted. In order to access the data files you will need to undergo a method to repair corrupt backup file. And our software does the same in a very easy way.
Let's Focus on the Essential Features - Windows Backup Repair Tool
Get Complete View of BKF file – Tool has an interface which is being designed specially to let users view the content of the corrupted BKF file after it is loaded in the software. This option surely helps you to judge whether you want to restore that backup file or not as you get a clear list of files comprised by the backup file.
Provision of Search Tab – Interface of the software has an option of "Search" tab in which you can type name of a particular file and search if that file exists in the corrupted backup file you want to restore. You can see this search tab at the menu bar on the upper-right extreme when you repair Windows backup file.
Compatible With Many Operating Systems – No matter what operating System is installed in your computer system, this software is capable to repair corrupt backup files. All Windows OS versions including Windows 10 /8 are supported and hence you need not to think even if you have upgraded your Windows.
Choose Your Desired Location – Save the restored files after the corrupt Windows backup recovery is done to the location of your choice. In case you want your restored files to be extracted in some other path than your source .bkf file then you can do this by browsing the location by clicking "Browse" followed by "Extract at selected location".